Beryllium Copper (BeCu) Finger Stocks
• • •
Glocom offers a wide range of standard EMI shielding strips. Uncompressed heights of standard Finger Stocks range from .03″ to .44″, which can occupy gaps as low as .01″. These RoHS compliant shielding strips are designed with a wide variety of profiles. They are available in various forms:
Strips
In continuous coils
As single fingers
Or cut to lengths
"D" Connector Gaskets
Contact Rings
**Beryllium Copper EMI Shielding Products (also available in Stainless Steel)
SHIELDING STRIPS INSTALLATION OPTIONS
Clip-on Mounting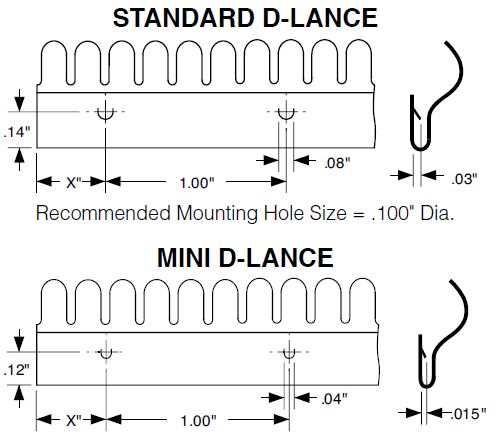 Clip-on Mounting provides a reliable mechanical installation when there is an accessible mounting flange. Various flange thicknesses can be accommodated, and lances can be incorporated to enhance the holding force to the flange.
Certain Clip-on strips have lance locations other than shown above. These dimensions are specified on the product drawings.
Stick-on Mounting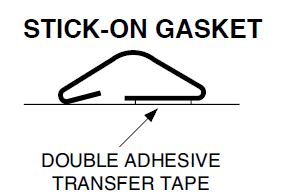 Pressure Sensitive Mounting provides double-sided pressure sensitive transfer tape for a fast, reliable installation. 3M F9469PC transfer tape or equivalent may be used at ambient temperatures from -67°F to 300°F. Apply only on a clean, oil-free surface, and allow a 24-hour cure time. Consult the factory for other adhesives and extended liner options.
Hook and stick fingers are ideal for flange mounting applications requiring low compression forces and small gap shielding.
Snap-on Mounting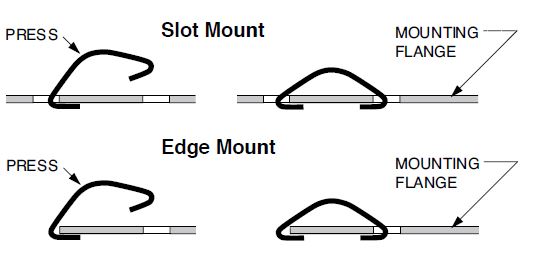 Snap-on Slot and Edge Mount Symmetrical fingers using single or double fingers are very economical for applications such as sliding drawers, doors, rack-mounted assemblies and covers. They perform well in bi-directional applications and the snap-on capability makes them easy to install.
When continuous shielding is required the V Series or VE Series utilizing the same snap on mounting feature can be used. Available repeating finger patterns for the V and VE Series are shown here.
Special Mounting
Special Mounting shielding strips can be installed by spot welding or soldering. Rivets can be used for the 375A and 500A profiles and conductive pressure sensitive adhesives are available.
Extrusion Mounting


"S" Series symmetrical shielding strips can be installed on extrusions specially designed to provide a useful free height. The drawing below illustrates guidelines for designing the extrusion.
Dimension "A" less allowance for initial contact is the compression range. Dimension "B" should be approximately .020″ less than the open dimension of the shielding strip.